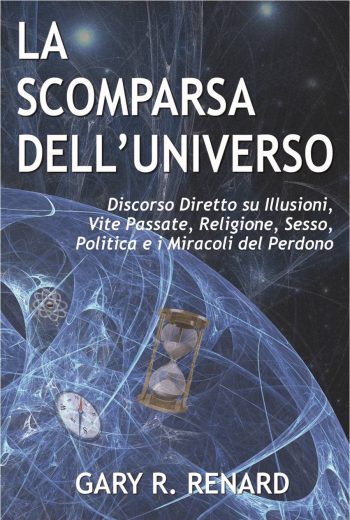 La Scomparsa dell'Universo
Discorso diretto su Illusioni, Vite Passate, Religione, Sesso, Politica e i Miracoli del Perdono
Cosa fareste se foste seduti tranquillamente in salotto e una coppia misteriosa apparisse dal nulla e vi dicesse che sono "maestri ascesi" venuti a rivelare alcuni segreti scioccanti dell'esistenza e ad insegnare i miracolosi poteri del perdono avanzato? Chiamereste la polizia? Andreste da uno Psichiatra? Li invitereste fuori per una pizza?
Quando due di questi insegnanti apparvero a Gary Renard nel 1992, lui scelse di ascoltarli (e di fare un sacco di domande impertinenti). Il risultato fu questo libro sorprendente: un resoconto straordinario di 17 conversazioni illuminate avvenute nell'arco di un decennio, che hanno riorientato la vita dell'autore e dato al mondo un'introduzione, senza compromessi, ad un insegnamento spirituale destinato a cambiare la storia dell'umanità.
  "Destinato ad essere uno dei contributi più significativi alla letteratura spirituale di questo secolo. Il messaggio contenuto nel libro di Gary Renard  La Scomparsa dell'Universo è di grande importanza per la guarigione di noi stessi e del nostro pianeta."
Dr. Wayne W. Dyer, autore del bestseller Il Potere dell'Intenzione.
"Con un umorismo disarmante e un candore realistico, Gary e le sue guide approfondiscono le verità all'interno di Un Corso in Miracoli.  La Scomparsa dell'Universo è sia la storia affascinante dell'incontro di Gary con due importanti guide spirituali e al tempo stesso, un manuale didattico sul potere del perdono. Un libro importante e molto divertente!"
Doreen Virtue, autrice dei bestseller Angel Medicine e Healing with the Angels.
Ebook disponibile nei migliori store online